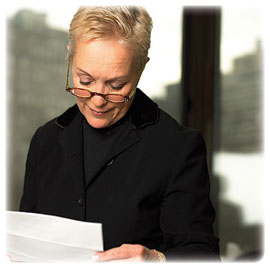 "Joanne Davidow is the absolute best in her field, bar none.I have bought and sold dozens of properties over the years and have never before experienced this high a level of sophistication, professionalism and execution.From the appraisal process, suggestions on staging and marketing to the regular communication on viewings and management of the closing process, Joanne's service was flawless. I cannot recommend Joanne and her team highly enough."
Glen T. Senk
CEO David Yurman
"Most Are JV.
Some Are Varsity
A Few Are All-Stars.
But You, Joanne,
Are Hall of Fame!
Thanks For Everything!"
Paul Raden
Chief Marketing Officer
Relay Network, LLC
"In today's economic climate, it's important to join forces with a true professional like Joanne Davidow. Her experience and calm demeanor make the buyer-seller dynamic a bit less complicated, and we always had complete confidence in her ability to represent us. Her depth of knowledge about Center City real estate is so valuable. When we are in the market again, she will be our first call!"
Joann and Phillip Burstein
" I have only good things to say about Joanne. She answered every question I had immediately and she never made me feel like any question was unimportant. She also provided me with complete and truthful information about the area and about each apartment I looked at during my search. I recommend her highly"
Cathee Gelman
" I must say you earned every penny and the representation was splendid. Feel free to show this to any prospective clients-so they too can benefit from your expertise"
Robert Taplinger
"My wife and I were very concerned about whom we should choose to sell our property, a lovely town home in the Rittenhouse/Fitler Square portion of Center City. We interviewed a half dozen real estate agents, most from Prudential, all sharp and knowledgeable.
When it came to deciding, however, Joanne appeared to us to be the most experienced and pragmatic of the agents we had met. She was especially collaborative regarding pricing, a process which has a strong foundation in the facts related to comparable sales but has a significant overlay of "feel". The sales price was our decision, but it clearly was a team process. Joanne offered supportive wisdom and counsel, which we found very reassuring regarding the final figure.
Once we chose her, Joanne and her team did all the work. We needed to tidy up, but the showing of the house and associated details were masterfully handled by her and her colleagues. In the end, the house sold quickly and painlessly, and I think we received a very fair price for it.
In our opinion, the process could not have been handled better, from the initial sales presentation to us, to closing, which, by the way, was handled totally by Joanne and her team.
My wife and I could not have been more pleased and relieved with our choice and how well Joanne handled everything for us. "
Glenn Whitman M.D.
Director, CVSICU and Heart Transplant
Johns Hopkins Hospital
"Joanne Davidow is the best realtor in the region. Period. She has sold two of our houses at asking price in under a week. She has the best resources and contacts in the area and knows exactly how to utilize them. From beginning to end Joanne will amaze you with her professionalism, tenacity and technique. Do yourself a favor, when you're looking to buy, sell or rent, call Joanne! "
Kimberly Schrier

"Joanne, you and your team all possess the equanimous personality required for your profession and I'm sure pesky buyers and sellers don't phase anyone of you, so thank you all again for being the buffer we needed and Joanne, for providing the sound advice necessary when the deal faltered.
Selling that house has added a decade to my life, and I will never be able to thank you enough for your professionalism, support and the speed with which you did it. Very best regards and continued success for your outstanding team."
Sue Ann Mcelroy

"I want to say thank you for making my first time home purchase such a wonderful experience. I really appreciate all the help and advice you've given me in the past several months. I wish all of you the best of luck and maybe I'll come back when I decide to buy an investment property in a few years!"
Oliver Yang
"I do not write testimonials, but am compelled to report the outstanding professional work that Joanne Davidow and her team provided to us in the sale of our home. Prior to placing our home on the market, I met with a few realtors who worked in the Fitler Square and Rittenhouse neighborhoods of Philadelphia. Joanne had been highly recommended by a good friend's contractor whose homeowner raved about Joanne. I was somewhat skeptical about the over-the-top endorsement of this friend's contractor, but then also heard of glowing endorsements from other realtors who had worked with Joanne over the years. I called her office to set up a time to talk and her staff got me in touch with her in five minutes and we were sitting down to talk in my family room as soon as my schedule allowed! During this first meeting, Joanne reviewed her approach to preparing a home; reviewed properties she had listed and sold; walked through the home looking at features; and, discussed the "comps" in order to calculate a listing price. During these discussions, Joanne was truthful, appropriately cautious, listened carefully to my questions and made suggestions about ways we could prepare the home for a potential buyer. At one point, she called her team to get additional data on-the-spot, commenting after the call about the incredible team she has and how important it is to have responsiveness whenever it is needed.
Joanne's expertise was obvious to me – hearing her describe her experiences with such an understated style was refreshing. Her network of contacts is very large and she suggested a blast communication and broker's open as a start. She prepared a description of the property, location and features of the home – asking me and my husband to edit it in any way we felt was appropriate. All through the process, Joanne was incredibly gracious and respectful of our time and wishes. It is here that some might say that the most important point is that Joanne sold the house for over asking-price during that first broker's open; I am actually most appreciative of the respectful, wise and unpretentious advice she gave us regarding how to present our home. And, her superb communication style with my husband, myself and our buyers made the process go very well.
We are quite fortunate that we had Joanne representing us in the sale of our home. She is the "real deal" as some say – hard to believe that such a thing exists in the real estate business! Joanne Davidow and her team are incredible!
Homeowner 2506 Delancey Place, Philadelphia, Pa.
"Our home was one of only a handful of dual lot properties in the Spring Garden neighborhood. After having performed a full rehab and developed an addition to the house, we entertained several approaches from various real estate agents and knew interest would be high. We were considering marketing our property ourselves as a FSBO, until Joanne Davidow came along. Drawing on the confidence and experience of her tremendous track record, she managed to convince us that our net price expectations would be met, if not exceeded, if we listed the property through her agency. We were skeptical at first. But I must say that she and her team pulled off the feat, and in a quick time frame too. I do not hesitate to recommend Joanne Davidow to discerning sellers in the Philadelphia market."
Kind regards from Seattle,
Matthew van Wollen
" On behalf of Vinnie and I, thank you all so much for your guidance and support over the past few months! You made this process so much easier for us and our families and we greatly appreciate it all. I am sure we are all happy to wrap this up! I will certainly recommend your team for anyone buying in the area. Wishing you continued success and health in 2018! "
Maria and Vinnie
" We came to Joanne by way of her outstanding reputation in the Center City residential market. Indeed, she seems well-connected and in tune with the market. She is extremely engaged and loves her work. We relied on her years of experience to make buying a home in a hot market as painless and stress-free as possible. She makes herself immediately available to her clients - even if she's on vacation. And if she can't be available in person, she has a capable staff to take care of most matters. A few thorny issues popped up, and she provided brilliant solutions only a seasoned pro could to protect us from significant risk exposure. She has a keen awareness of buyer psychology and can adapt approaches to suit a variety of clients.
Mike and Nancy Eiseman
Thrilled Graduate Hospital Area New Home Owners
" Thanks Joanne,
I enjoyed working with you, and you did a great job! I am very happy that I did entrust you with the sale. Your experience and working knowledge of the real estate market was such an important factor in making this process work for us. You were so easy to communicate with and you gave me confidence to let you take care of all the details.......

Thanks and good luck with all of your upcoming sales!"


Bill Tecosky

Joanne, With the settlement of our property now in the rearview mirror, I just wanted to express our sincere appreciation for the outstanding job you did in navigating us through the entire selling experience over the relatively condensed time-span. Not only did you bring us a buyer in short order and negotiated a very good final offer, but you responded promptly to all the issues – large and small -- that came up along the way. In particular, you jumped right in when an issue arose regarding the deposit. I have encountered many instances where such demands over relatively small amounts of money have led to potentially blowing up the transaction, or at the very least, significant legal time on both sides trying to reach a resolution, and we were very happy to avoid that result in this case. I also want to extend our gratitude to your helpful and responsive staff in bringing this matter to a prompt and very satisfactory conclusion.

Thanks and good luck with all of your upcoming sales!"


Ralph N. Teeters
Teeters Harvey Marrone & Kaier LLP
Philadelphia, PA


I want to make sure you know how much I appreciate you leading your team to a successful sale of 622 spruce. You did exactly what I needed done. And closed before January,. Well done Joanne
Steve Krupnick 12/27/2018


I cannot recommend Joanne and her team enough. What an incredible and seamless process to sell our house (not to mention super fast and at full asking price). From the moment we decided to sell, Joanne and her team were available 24/7 to guide us through all steps of the process. You will not be disappointed!"
Lindsay & Tim Dwyer
Dear Joanne, I just wanted to again thank you for all of your efforts. You are clearly excellent in your profession and a treasure to Philadelphia. I wish you continued health and happiness. With all respect,
Mark Burlingame MD