The U.S. ranks third among the best places to live for foreigners, according to a new global study conducted by the Boston Consulting Group. Statistics show that foreigners comprised more than four percent of property searches in the country between April 2012 and March 2013.
Europeans and Canadians still comprise a significant portion of the foreign buyer base, but has declined by four percent from last year. The sharp increase in foreign investment on real estate now comes from Asia and Africa instead. Jed Kolko, Chief Economist of real estate website Trulia, adds input on the resulting figures:
"There was a big increase from Asia and Africa," he says. "Both saw stronger income growth in the past year and therefore their citizens have more money to spend on all sorts of investments—including U.S. real estate."
Although investors from Canada, the U.K. and Germany conduct the most searches for U.S. homes, the numbers are dwindling. This year those three countries accounted for 34% of all foreign searches on Trulia, down from 38% a year ago. Gaining in search share are individuals from India, Nigeria, Russia and the Philippines, which all leapt by 20% or more. Searches conducted by investors in China increased by 17%, according to Trulia.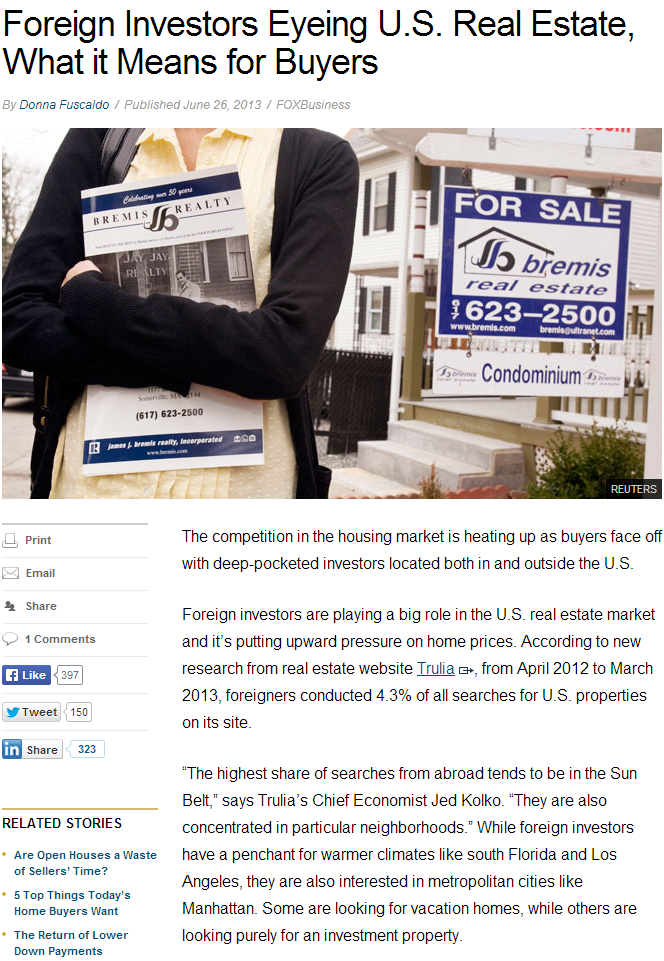 This reported increase in foreigners seeking property ownership in the US is not exactly a new thing for Philadelphia, as it has recorded a notable influx of foreigners since the 1990s. Adding interest for them is the rebounding housing market of the city in 2012, which remarkably saw the most number of building permits issued since 2005. With an estimated US$335 million worth of new construction waiting in the wings, it is practically certain that the city will want to encourage even foreigners to buy condos in Philadelphia.
More Requirements
Foreign buyers, though, should expect additional requirements aside from the typical ones. For instance, some banks may require at least $100,000 on a bank account or impose loan limits. Some lenders may also require the buyer's passport and copies of his visa. Federal law also requires transactions of over $10,000 be duly reported for transparency.
While there may be several extra steps for foreigners interested in buying Philadelphia luxury condos, realtors like Joanne Davidow are sure to treat foreign buyers fairly.
(Article image and excerpt from "Foreign Investors Eyeing U.S. Real Estate, What it Means for Buyers," Fox Business, June 26, 2013)
[4]http://www.zillow.com/intl/en/foreign-buyers-guide/