Looking to start over in a new place may not be as easy as finding yourself a good house, settling in and bonding with the neighbors. Mary Umberger of the Inman News shares her take on the matter:
You're not just buying a house -- you're also buying a neighborhood. Sometimes, though, one resident's "neighborhood glories" are another resident's "neighborhood warts."
Take, for example, close proximity to clubs and nightlife.
For some homebuyers, that would be a turnoff. But a few years ago, Austin, Texas, broker Kimbrough Gray had clients who insisted on being "stumbling distance" from a particular bar.
"They said, 'We don't want to drive after we've gone to our favorite club,' " Gray said. "I'd show them houses, and they'd say, 'If we were drunk, could we find our way home to this house?' "
The client's questions on the proximity of their prospective property to the nightlife may sound familiar to the ears of those who have chosen to live a new life in Philadelphia, PA. The city's multi-layered cultural scene offers various opportunities for people looking to experience a vibe different from the usual. Whether it's about learning more about Philly's historical role in the nation's independence or pursuing a higher education, people will have their reasons for coming in. Picking quality townhouses and condominiums in Philadelphia with help from reputable local realtors, such as Joanne Davidow, should be a good first step for those keen on moving in.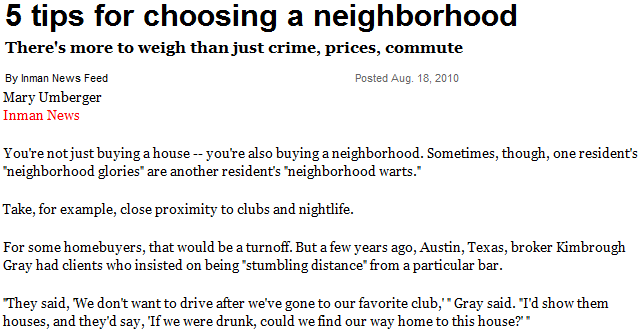 Umberger notes that the time of day is a critical factor when choosing a neighborhood for your prospective unit. Realtors like Ms. Davidow will furnish you with an array of listings spread out across a number of places, warranting you a chance to scout them out. A check of the area in the early afternoon and well after dark will reveal some notable clues, as well as talking with locals about the neighborhood environment at certain periods of the day.
Buying a place for your family adds another consideration in your decision-making: accessibility of basic service providers and schools. Places like Center City, for instance, also warrant information on travel times and routes, plus creature features closest to your prospective location.
Buying yourself one of many premium Philadelphia condominiums is one way to start over in the City of Brotherly Love. There is great value to be had in settling in a choice neighborhood.
(Info from 5 tips for choosing a neighborhood, Philadelphia Weekly)