The real-estate market may yield some hope for searchers of top-dollar apartments. According to the Philadelphia Inquirer's Alan Heavens:
Just 22 months after its unsold units went to sheriff's sale, 10 Rittenhouse Square, the Robert A.M. Stern-designed luxury high-rise at 18th and Walnut Streets, is only 11 pricey condos away from being sold out.
There are many reasons for what "seems like a remarkable turnaround," as economist Kevin Gillen, senior research fellow at the University of Pennsylvania's Fels Institute of Government, described it - a building conceived in boom times but born as the economic bust gripped the city real estate market.That's without a value-crushing auction, and with prices on the remaining units cracking the $1,000-a-square-foot barrier - understandable, given that they are on coveted floors with spectacular views.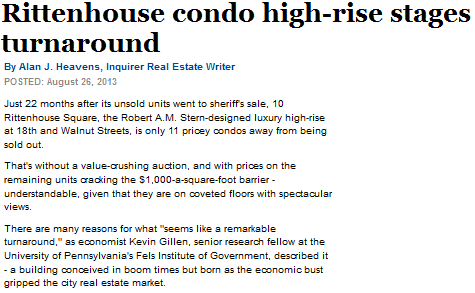 There's already a lot to love about living in Philadelphia, PA. The City of Brotherly Love has a large amount of educational and business opportunities counterbalanced by a powerfully vibrant nightlife. The influx of new residents, especially naturalized Americans looking for work, makes it tougher to snap up one of several quality Philadelphia condos for sale like 10 Rittenhouse. Such a challenge is not insurmountable when you got local agents like Joanne Davidow in your corner.
Key to landing a pristine condo for yourself is looking up which agent has the most eyes and ears on the ground and are fully deputized to negotiate a deal. A check of the agent's credentials will reveal which property listings are up for grabs; if your agent has swanky listings for places in Center City, you may be on to something big.
Heavens reported that the leftover units still ready for sale at 10 Rittenhouse include two 28th-floor penthouses at $5.97 million, with a combined floor area of over 10,400 square feet, and the Rittenhouse Club unit pegged at $15 million. The $300-million complex had 143 units and won over many buyers because of its cutting-edge amenities and good views of the city – all despite a checkered history that included zoning issues.
However, 10 Rittenhouse is only one among many Center City condo complexes whose units are in low supply. For instance, its supposed chief competitor, the 1706 Rittenhouse Square, only has two units left. Investing in condos for sale in Philadelphia, PA will always be a surefire win. Having agents such as Joanne Davidow can facilitate the buy-in works.

(Info from Rittenhouse condo high-rise stages turnaround, Philadelphia Inquirer, August 26, 2013)