One of the many reasons why up-and-coming young adults and newly married couples wanting to start a family make a big deal out of beautiful Philadelphia condos for sale is because they recognize how the City of Brotherly Love has morphed into a dynamic megacity joining the ranks the likes of Chicago, Los Angeles, and New York—without having to be as unbelievably expensive as those cities.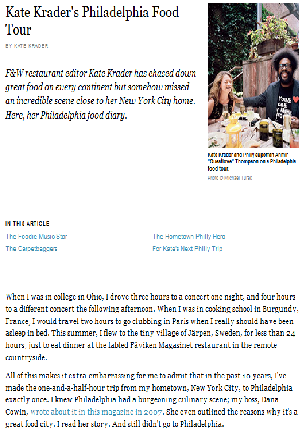 Philadelphia's Center City, for example, is a collection of beautiful upscale neighborhoods and flourishing business centers, yet it's possible to lease or rent a reasonably spacious pad in the area for a price that's even less than the cost of renting a studio in Brooklyn or San Francisco.
The surprising thing about Philadelphia is its steady evolution into a vibrant hub of foodie gastropubs and emporiums. People are on to the trend that many talented chefs in the US are setting up bases in affordable Philadelphia, adding something bold and new to an already exciting local cuisine. In Food and Wine Magazine's November 2013 issue, restaurant editor Kate Krader had nothing but praises on Philadelphia's food scene:
Lately, Philadelphia has been inserting itself into my restaurant sight lines. I kept hearing about chefs who left notable Manhattan places, like Momofuku Ko and Torrisi Italian Specialties, to strike out on their own. They weren't opening up 12-seat micro-gastropubs or artisanal-mayonnaise emporiums in Brooklyn—they were heading to Philadelphia.

Chefs were coming from other places, too, like Washington, DC, and San Francisco. The City of Brotherly Love seems to be morphing into a gathering place for talented cooks from around the country. (Remember, the Founding Fathers met there, too, to draft the Constitution.) Or maybe it's really just a less annoying, less high-rent Brooklyn.
The places Krader checked out include Talula's Garden, whose chef, local Sean McPaul returned after a stint in San Francisco. Krader headed on to Vedge, a hot new vegan restaurant in Locust Street in Center City. Save for Italian restaurant Le Virtu in East Passyunk, all the dining establishments that Krader reviewed are within Center City.
Dining, however, isn't the only reason why affordable condos for sale in Center City, Philadelphia, managed by esteemed property managers, such as Joanne Davidow, are on demand. If you love to be close to shopping boutiques, museums, parks and gardens and historic places, Center City is definitely the energetic haven you'd want to explore.