The latest government shutdown rattled almost every single industry in the country. In a story posted October 1, 2013, Forbes reported on the shutdown's possible effects on a rebounding housing market: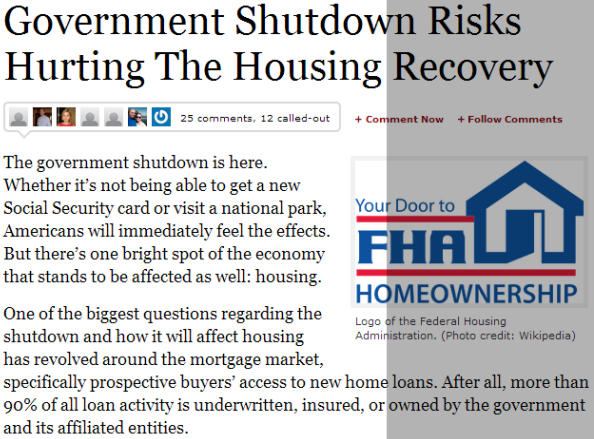 One of the biggest questions regarding the shutdown and how it will affect housing has revolved around the mortgage market, specifically prospective buyers' access to new home loans. After all, more than 90% of all loan activity is underwritten, insured, or owned by the government and its affiliated entities.
Initially at least, the mortgage market is likely to be only minimally impacted. New loans will continue to push through most government agency pipelines. What will change is how long the process takes, as many agencies expect to experience delays.
The article further discussed that some government agencies directly concerned with the industry, such as the Federal Housing Administration, would be able to continue endorsing 15% of the single-family mortgage market, albeit at a much slower rate. Other agencies, such as the Department of Agriculture, were expected to suspend their lending capabilities until the September 30 shutdown was resolved. This meant different things for Philadelphia realtors and their clients.
For as long as the shutdown lasted, new mortgage applicants had to suspend any plans of application. According to an article by CNN, Wells Fargo, the nation's biggest mortgage lender, said that applications will not be completed until the conclusion of the shutdown and when the borrower's income claims can be officially verified. Dan Frommeyer, the president of the National Association of Mortgage Brokers, said that a lot of banks took a position similar to Wells Fargo's.
However, it was said that the shutdown should not discourage potential homeowners who have already cleared the application process from continuing to purchase their dream home. Brian Grubbs, president of Raleigh Mortgage Group, told WNCN that "people currently waiting to have their loans processed will be helped on a first come first serve basis."
The shutdown, which lasted through October 16, indeed threatened to hamper the momentum that the housing industry has been gaining in recent years. But even obstacles like this can be hurdled, and it should not stop you from conducting your Philadelphia property search. When faced with questions about how national issues or other events might affect your real estate goals, you may consult with experienced professionals like Joanne Davidow on what you can do and which properties can still become your own.
(Info from Government Shutdown Risks Hurting The Housing Recovery, Morgan Brennan, October 1, 2013)