A Bloomberg article dated October 4 details the sudden rise in the number and cost of planned rental units in Brooklyn, New York: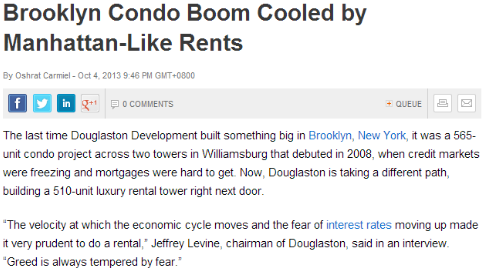 About 15,300 new rental units are under construction or planned in the next two years for Brooklyn, compared with just 1,700 planned condos, according to New York brokerage MNS. Developers see rentals as a safer bet in a market where rents are climbing faster than in Manhattan and neighborhoods such as Bushwick, Greenpoint and Crown Heights are gentrifying, drawing professionals seeking more space and tree-lined streets.

The median apartment rent in Brooklyn, the most populous of New York's five boroughs and once a refuge from Manhattan's sky-high costs, was the highest in at least five years in August, rising 4.6 percent from a year earlier to $2,850…In Manhattan, rents gained 1.8 percent to a median of $3,150.
The article elaborates that one of the biggest factors for the sudden boom in Brooklyn's rental market is the instability of economic cycles and insurance rates. With the current situation, it is much easier to market collective units for rent rather than individual units for sale. Yet such a trend can also be a double-edged sword.
The development of new buildings has boosted land value but has also turned away potential tenants. Case in point: Manhattan's average listing price as of September 25, 2013 is $2.66M while Brooklyn's September 25 median is $816,000—a $68,000 increase from the September 4 average. Those in search of reasonable housing costs may have to look elsewhere—such as the Philadelphia real estate market, for instance.
Philadelphia, PA offers an abundance of quality homes for sale and rent, and may attract some folks who work in NYC yet desire a more sustainable cost of living. Philly is close enough for some residents to brave the affordable two-hour commute to the Big Apple several days a week. Average rent in the City of Brotherly Love amounts to $1,265, which is roughly 40% lower compared to $3,136 in New York.
In addition, the average listing price in the City of Brotherly Love as of Sept. 25 is at $224,000, which is certainly more affordable than real estate prices in New York. Given the aforementioned facts, it is not hard to consider Philadelphia as your new home. Interested tenants and buyers can turn to a trusted Center City, Philadelphia real estate broker like Joanne Davidow.
(From Brooklyn Condo Boom Cooled by Manhattan-Like Rents, Bloomberg, October 4, 2013)