An article published on CBSNews.com website identifies 10 U.S. cities that offer the lowest price tags of homes for sale. Philadelphia is one of the cities that made the cut. A clarification was also given to explain other factors that determined which ones made it to the list: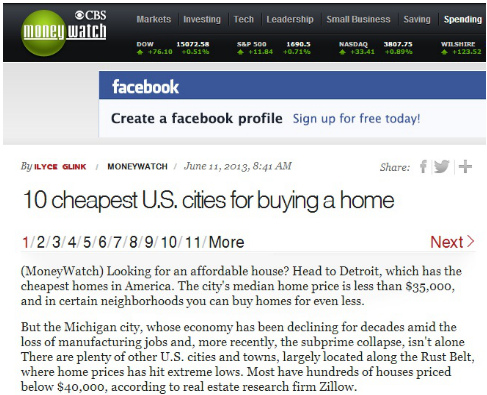 Not all of these cities necessarily offer the lowest median prices across the country, but they do have some of the cheapest neighborhoods with the most affordable homes. Although Tampa, Fla., has homes that sell for millions of dollars, for example, the foreclosure crisis in the state also means there are properties selling for just a few thousand dollars.
While the median price for a home in Philly is around $104,000, homes in certain neighborhoods can be had for much less. Philadelphia's higher median home prices are driven up by more upscale neighborhoods, where home prices hit half a million dollars. But there are plenty of neighborhoods with low median prices, reaching as low as $38,000.
This information can lead us to safely conclude that residing in Philly is a good idea. That being said, now seems to be a good time to check out the Philadelphia homes for sale to see which ones fit in your budget. Aside from the affordable homes, the city also allows you to build your family because of the quality educational institutions available and the growing economy, as well.
Buying a house to call your own is definitely one of the biggest decisions you'll ever make. But take comfort in knowing that you don't necessarily have to go through this stage by your lone self. Let it be known that there are reliable real estate agents like Joanne Davidow who represent buyers throughout each step of the transaction.
A good representative should not only let you what's inside the homes for sale in Philadelphia but should likewise help you outline a criteria to evaluate the strengths and weaknesses of each one. In choosing a representative, find one whom you can trust as this person is supposed to give you truthful information about your options. Understand that you are making an investment and that it is necessary to inspect even the apparently littlest details.
(Info from 10 cheapest U.S. cities for buying a home, CBS News, Published June 11, 2013)