The behavior of certain home buyers indicates that the conveniences available today have led many to believe that we can do everything ourselves. Among the top 5 mistakes home buyers make, as identified in an article posted on MSN Real Estate, is the assumption that home buyers can successfully engage in and close transactions without professional help. The article noted that: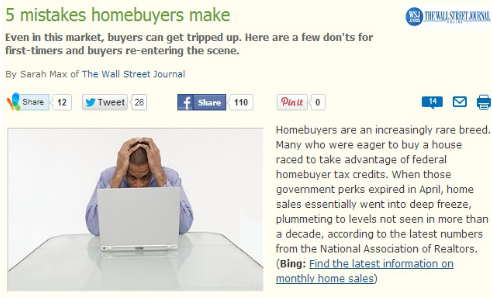 Finding a house and figuring out comps — the price of comparable homes on the market – is the easy part. Managing the nuances of offers, inspections, financing and all the other pivotal steps to buying a home is where many new buyers tend to get tripped up.
The real estate agent's role isn't just about finding listings—with Internet access, buyers can easily find listings themselves, after all. The agent's role is more about presenting your offer to the seller in a way that will help it get accepted, as well as making sure that it sticks through an escrow. Also, since the seller pays the buyer's real estate commission, hiring a real estate agent will cost you nothing.
Let's say you're looking at different premier condos in Philadelphia for rent or sale. Do you trust yourself to make a truly informed decision? How much do you really know about the market? The web may generate useful information, but that would still pale in comparison to the knowledge and expertise your real estate agent can provide.
There's bound to come a time during the complicated real estate transaction when you'll wrestle with serious doubts or big questions. Your real estate agent can act as your trusted adviser, and will guide you through all steps of the process. If you plan to invest in luxurious condos in Philadelphia, in neighborhoods like Rittenhouse Square and Center City, experienced real estate agents like Joanne Davidow can assist you, as they carry exclusive listings.
Investing in condos is also a sound way to invest your hard-earned money, as you're bound to get good returns. Property buyers should consider the Murano, a premium 42-story condominium situated in Center City. Aside from being located in the heart of Philly's central business district, the Murano also offers unit owners plush amenities and other privileges.
(Info from 5 mistakes homebuyers make; MSN Real Estate)