Property owners based in and around Philly who want to sell their properties would be delighted to know that their homes are still very much in demand after the government shutdown. An article written by Alan J. Heavens, which appeared on Philly.com, gives us more insight into the status of the Philadelphia real estate market: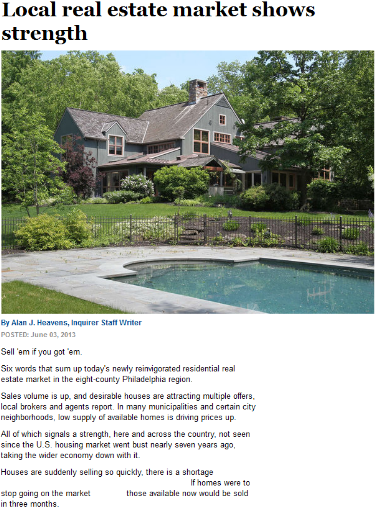 Sell 'em if you got 'em.
Six words that sum up today's newly reinvigorated residential real estate market in the eight-county Philadelphia region.
Sales volume is up, and desirable houses are attracting multiple offers, local brokers and agents report. In many municipalities and certain city neighborhoods, low supply of available homes is driving prices up.
All of which signals a strength, here and across the country, not seen since the U.S. housing market went bust nearly seven years ago, taking the wider economy down with it.
Houses are suddenly selling so quickly, there is a shortage. If homes were to stop going on the market … those available now would be sold in three months.
Though high-end properties are also selling, real estate agents like Joanne Davidow state that fewer people are purchasing larger homes priced at more than $500,000. Many buyers are going for more upscale Philadelphia condos for sale, particularly those located in Rittenhouse Square and Center City. These properties appeal to young professionals who value accesibility to places of work and amenities above all else.
A Pew Charity Trust report from 2012 noted a 60,000-strong increase in Philly's population following a half-century of outbound resettlements. Also, Philly's demographics have shifted, and the number of individuals aged 20 to 34 has increased from 20 to 26 percent. With townhouses and condos selling well, property owners can contact reputable real estate agents like Joanne Davidow to find suitable buyers for their well-appointed condos for sale in Philadelphia.
While a spike in mortgage interest rates and the recent government shutdown has caused the real estate market to take pause, there is still hope. The National Association of Home Builders' Chief Economist David Crowe states that interest rates remain near historic lows, and overall, current rates are projected to have minimal impact on sales and starts. In other words, once the government impasse is resolved, consumer optimism and the housing sector are going to recover quickly.
(Info from Local real estate market shows strength; Philly.com; June 03, 2013)